Karaoke
Party
Bus
DC
|
Karaoke
Party
Bus
Baltimore
A KARAOKE READY PARTY BUS OF COURSE! Sing your heart out in our new karaoke party bus. A memorable experience you won't forget anytime soon!!
Yes, if you rent the microphones, we can give you the ability to cast your phone to the TV. Please note: Some phones may not be compatible with casting to the TV, but you can still use your phone to read the lyrics.
It's a fun and easy way to sing your favorite songs using 2-4 wireless microphones connected to the bus sound system.
Please select the option to rent either 2 or 4 microphones in the quote.
Any vehicle picture that has the microphone logo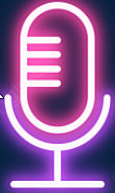 on the Home Page.
You can use the mics to:
Make announcements for a special event.

Use them simply to get the attention of your guests.

Give a guided tour to friends and family.
SERVICE AREAS: PARTY BUS DC, PARTY BUS BALTIMORE, PARTY BUS VA
Your review
The whole process was so easy from start to finish. They were on time, the ...